UI Design Process for Software and Web Apps
A UI design process includes several steps:
Analyze and refine the product requirements. We help you organize your thought and ideas and then articulate them in a way that keeps the focus on the user and meeting their needs.
Create user profiles and personas. Your users will be categories and defined by skill level, understanding, frequency of use, and any other appropriate dimension.
Do the research. A thorough competitive analysis showing the best-of-breed practices and features in your industry will be created. Then, we'll document the user task model in a task analysis and in task flow diagrams.
Building on all the preparatory work, a set of wireframes will follow the task flows we've refined to show the functional segmentation, UI layout, and navigational structure.
The wireframes are evaluated for usability and learnability through some informal usability testing and user feedback sessions. The flow and design are refined based on the feedback
We develop a detailed visual design template for application to the wireframes. Final UI code may be delivered where appropriate.
A complete UI specification detailing the functional and behavioral characteristics of the user interface is delivered to the development team. Ongoing consultation and feedback is encouraged throughout the development process.
Examples A


(Click to enlarge)
NetApp People Actions Intranet
When NetApp needed an entirely new employee intranet platform based on PeopleSoft, they turned to UsableXperience to provide world-class design expertise. NetApp needed an application that was clear, concise, and intuitive for all 8,000 members of the company. NetApp People Actions is a way to manage relationships between employees, HR, and managers.
We designed a lightweight yet powerful intranet applicatoin that excels in handling large amounts of data such as employee records, pay history, etc. Users can quickly and easily see forms in workflow and submit new ones.
Services rendered:
Web Interaction Design and Requirements Development

NetApp Asset Content Management System
NetApp needed professional user interface design help for their content management system called ACMS. ACMS is short for Asset Content Management System, a system that would allow various departments througout the company to save and retrieve files like logos and marketing literature.
UX took their intial engineering prototypes and produced a full application UI down to the CSS and JavaScript. The finalized HTML templates served as a strong UI specification which allowed Engineering to implement exactly as specified.
Services rendered:
Web Interaction Design, prototyping, HTML/CSS/JavaScript authoring
(click for more)


(Click to enlarge)
Yahoo! Connected Photos
Yahoo!'s social platform for sharing photos benefitted from our interaction services by our work on tagging interactions. We designed complete scenarios and prototypes of the tagging interaction which was the major feature of Connected Photos.
Services rendered:
Web Interaction Design and prototyping


(Click to enlarge)
Oracle Beehive Enterprise Collaboration Suite
UX was asked to design a major area in Oracle's new collaboration suite, Beehive 1.0, a part of their Fusion Middleware platform 11. See
Beehive
info at Oracle.com.
Oracle needed expert UI design help when it came to administration and platform management. They wanted solid user interfaces for controlling and configuring modules like Online Conferencing, Instant Messaging, and Workflows. We provided them with a set of design solutions that were able to seamlessly fit into their AGILE development methodology
Services rendered:
Software Interaction Design and prototyping


(Click to enlarge)
Yahoo! Social Browser
Yahoo!'s social browser was meant to integrate various social networking features such as IM, social sites, tagging, and other features.
UX collaborated with other elements of Yahoo! to produce a polished set of interactions around social features. We defined how users would interact with the Yahoo! Sidebar, how they would tag various pages they came across, and how pages and information could be shared quickly and easily through blogging or instant messaging.
Services rendered:
Web Interaction Design
Examples B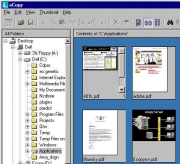 Adobe: eCopy (case study)
Adobe needed a client design for a network-based digital PDF desktop. Users would scan documents in a high-end copier/scanner and their PDF scans would appear in this client. The design allowed users to quickly manipulate individual or groups of documents quickly and easily through the thumbnails. When their documents were completed, a novel launch bar enabled documents to be sent out via different systems.
Services rendered:
Software Interaction Design, Product Strategy and Requirements Development
(click for more)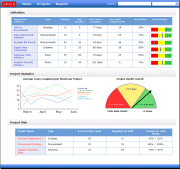 Aravo Solutions: Aravo 3.0 (case study)
Aravo asked us for a return engagement to work on their 3.0 version (and also 2.x redesigns) after having designed their very first version. UX provided comprehensive redesign services for Aravo's 2.x products which kept them in competition for work with the U.S. Navy. Originally contracted to provide interaction design for new features, UX's role became one of shaping the entire product line's direction by serving as a strategic consultant. We proposed successfully that their feature set need to include much more collaboration and communication toolsets. Aravo agreed and we were able to give them an entirely new product concept that centered on the concept of group collaboration and strategic initiative management.
Products designed:
Aravo 2.4, 2.5, 2.6, and 3.0
Services rendered:
Product Strategy, Web Application Design, Expert Review, Product Management
(click for more)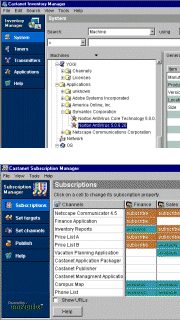 Marimba: Castanet Enterprise Suite
Marimba's product suite Castanet is the leader in Java-based platforms technology. Their entire line of products underwent a complete redesign from the ground up, resulting in huge improvements in the products' usability. Several new products were designed for them as well, working in conjunction with their engineering teams.
Products designed:
Castanet Tuner, Transmitter Administrator, Inventory Manager, Subscription Manager, Reporter, Network Manager
Services rendered:
Product and Interaction Design, Usability Testing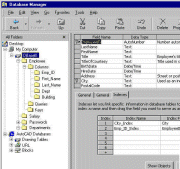 Autodesk: AutoCAD r15 - Database Connectivity
AutoCAD's functionality for connecting CAD drawing objects to database information was just not being used by customers because of substantial usability problems. A thorough redesign of the user interaction model, using a standard tree control to browse the schemas and manage the data structures enabled a huge leap in usage for this functionality.
Services rendered
: Interaction Design, Expert Review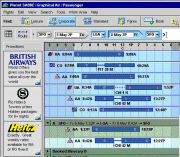 (Click to enlarge)
SABRE: Planet SABRE
Planet SABRE is a leading travel reservation system for travel agents worldwide. SABRE needed a replacement for their obsolete command-line interfaces and decided to build a suite of Java-based client applications. The design enables a large amount of data to be displayed while still preserving a tight information architecture and very clear avenues of interactivity.
Products designed:
Graphical Air, Graphical Car, Price Itinerary
Services rendered:
Interactive Prototypes, Interaction Design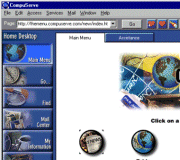 CompuServe: Information Manager 3.0
The CompuServe Information Manager is the premier flagship for the network. Version 3.0 was their first foray into an integrated Web browser with the client. Another requirement was for an improved and updated signup process for the service. The new design was successfully delivered with lots of validating user testing early in the prototyping process.
Services rendered:
Rapid Prototyping, Interaction Design