^ Up : Adobe eCopy
Business Goal
Due to the increasing popularity of network-based digital copiers/scanners, Adobe wanted to make sure that these new machines used their PDF format. To encourage the marketplace to adopt their technology, they needed an OEM client that would handle all scanning images for each individual user. Users were to scan several documents and scanned objects would appear immediately on their desktops in a PDF-management client application as thumbnail files. The challenge was to take a product based on complex technology and make it usable by any level of computer user.
Design Solution
The following activities helped inform the final application design:
Competitive analyses of best-of-breed products like Visioneer PaperPort and Xerox Pagis Pro
User interviews to capture data and user requirements
Extensive task analysis of current methods of completing routine office tasks such as faxing, copying, and emailing
Quick user testing on specific interaction design problems
Parallel design to produce multiple versions simultaneously for the client to make decisions on
Usability Testing yielded feedback that was fed back into the design cycle for the next version as well as enabling UI fixes during the current implementation process
Created the eCopy UI Specifications to document design decisions
Benefits
Subsequent usability testing on the final product indicated few substantial usability issues. Adobe was able to complete the product on time and on budget, thanks to a solid and correct user experience design. Adobe clearly felt that they could release an OEM product that was world-class and represented their brand well. Once built, the design was successful as a stand-alone product called Adobe Circulate. Quote from Julie Reichle, Product Marketing Manager, Adobe Systems, Inc.:
"Thank you for continuing to provide quality user interface design work to Adobe Systems. You continue to impress us with the high caliber work you produce and by your responsiveness to our needs. I look forward to an ongoing working relationship.."
Examples
Thumbnail Browser and Desktop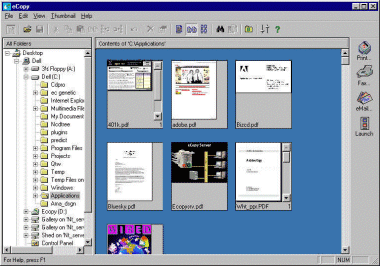 + Show full size - hold down shift key if new window doesn't appear.
The overall environment for this desktop management platform was chosen to be similar to the Windows file explorer. Users see network printer scans show up on their eCopy desktop and can then edit them. The use of a flat-style interface and a familiar Explorer file tree leverages well-known UI metaphors. The application had a built-in PDF filter so users could quickly find target files anywhere in their file system without having to search amongst many different file types.
User Manipulation of PDF thumbnails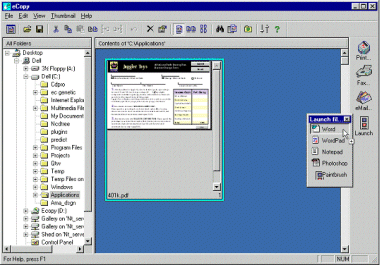 + Show full size - hold down shift key if new window doesn't appear.
This screen demonstrates the drag and drop functionality in exporting a file to an external application. The UI supports three levels of magnification of displayed thumbnails. Various tasks can be carried out by users right in the browser instead of opening the source PDF documents. Users can also scroll through documents without opening them, drag and stack other documents on top of each other, and delete pages. Designing the user interactions for these tasks was a critical and meticulous effort.