Information Architecture Process
An information architecture is a central part of making a web site experience usable. Content and navigation are the central factors behind web site usability, and we'll make sure that your web site has the coherent organization and structured content designed to support your users' goals. We provide a fully-documented development path to a successful web site implementation, from user analyses to detailed architecture and clickable wireframes.
An information architecture process encompasses:
Analyze and refine the web site requirements and business goals. We help you organize your thought and ideas and then articulate them in a way that keeps the focus on the user and meeting their needs while preserving your goals.
Create user profiles and personas. Your users will be categories and defined by skill level, understanding, frequency of use, and any other appropriate dimension.
Assess your current and planned content. We'll examine and help you prioritize which content and features best support the goals of your site.
Plan a new architecture. We'll look at the high-level architecture that reflects your priorities and create the broad categories for the existing content. A structured vocabulary can be applied to help shape the navigational structure.
Document the decisions. A comprehensive set of documentation including the sitemap architecture and linked wireframes are provided to help you understand the proposed user experience and visualize the navigational flow of the site.
Examples

EMM EMMPower Marketing Platform (case study)
UsableXperience was asked by EMM Group, a top marketing consulting firm, to help design a collaborative Marketing/Campaign management platform that focused on collaboration and content management. The platform was designed to be used by marketing departments in enterprise corporations as a web application.
The overall product was around 100 pages in total covering 15 major features. UX divided and categorized the features into five major areas of information architecture: Insights, Strategy, Planning, Execution, and Library.
UX built a best-in-class application for EMM. The product was further refined with the help of user feedback which was incorporated into the UI on an continual basis. EMM was satisfied wth the services rendered, even going so far as to provide a bonus for our firm
Services rendered:
Information Architecture, Interaction Design, usability testing
(click for more)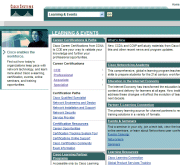 Cisco Systems: Cisco.com-Learning and Events (case study)
Cisco.com is one of the largest e-commerce sites in the world, accounting for $4 billion in revenue. We provided information architecture services to the Cisco.com team on the restructuring of the Learning and Events section (one of the site's major sections). Working closely with several teams of stakeholders, we did a content assessment of all the assets contained in the current section. Through the use of sitemaps and diagrams, we arrived at a new architecture that reflected the priority of each individual group's agendas.
Services rendered:
Information Architecture, Interaction Design
(click for more)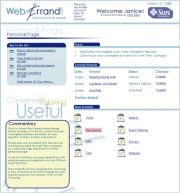 WebErrand, Inc.: WebErrand.com
WebErrand needed information architecture for a brand new site that was to be highly transactional and interactive. Working with the marketing team, we helped them articulate their ideas about the site, looking at how the architecture could support the user and business goals. A focus was on keeping the user experience simple and helping users quickly complete transactions in a minimal amount of time and clicks. Our architecture and design work was very well received by WebErrand, and they were able to implement the designs with ease.
Services rendered:
Information Architecture, Visual Design