Expert Design Reviews
An expert review is the simplest and easiest way to get feedback on the design and usability problems built into your product. Many companies unknowingly build hurdles to using their product or forget about the user focus. Usable Experience can quickly determine where you've gone wrong and what it would take to get back on the road again. We'll use a set of design heuristics derived from many years of experience in the UI and usability testing fields.
An expert review accomplishes the following:
A comprehensive look at the level of usability and adherence to design heuristics. Does the UI support the user's goals? Are actions reversible? Principles are derived from top experts in the field as well as from direct experience.
Comparison to best-in-class techniques. See where your product could benefit from the latest in interaction design techniques.
Clear, concise, solutions. We'll furnish you with the "Top 25" most-implementable things that you can do to improve your product's user experience in a week.
Examples

Marin Software: Ad Management Platform Prototype Review
Marin Software had a need for some practical UI design advice for their early-stage product that was prototyped as wireframes in Excel. They had questions about their interaction model and general UI presentation. An expert review was performed on their low-fidelity prototypes and recommendations were generated.
We performed an extensive expert review on their prototypes, covering every screen. Each item was logged into a table covering the context, exact issue, the type of issue, and the design recommendation. Then, the item number was tagged on a screenshot and all the screenshots with issues were centralized into a PowerPoint presentation.
Services rendered:
Expert Review
(click for more)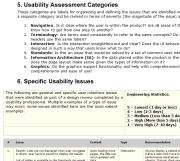 Aravo Solutions: Aravo 3.0 (case study)
Upon our return engagement with Aravo, UX's first steps were to find out what design and usability issues had come into the app since the 1.0 design. Over 100 lightweight to serious usability issues were found in the application. We were able to provide design direction and recommendations as well as a prioritized list so that Aravo's engineers could start addressing the more serious issues, as well as the easily completed less serious issues. We worked directly with the engineers to tackle the most pressing issues through prototyping solutions or providing guidance.
Services rendered:
Expert Review
(click for more)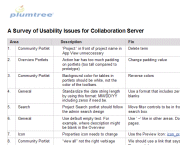 Plumtree: Collaboration Server Review
Plumtree's Collaboration Server was in its third version and had not had any concentrated user experience design work performed on it. To assess the baseline usability, an expert review was conducted to help the engineering team see exactly where the app was and what fixes needed to be placed on the schedule. A lot of easy fixes were found that helped the app make big strides in usability, and the engineering team was able to quickly implement the changes.
Services rendered:
Expert Review