^ Up : Marin Software
Business Goal
Marin Software had a need for some practical UI design advice for their early-stage product that was prototyped as wireframes in Excel. They had questions about their interaction model and general UI presentation. An expert review was performed on their low-fidelity prototypes and recommendations were generated.
Challenges
Since Marin was trying to create a powerful tool for connecting with Google and managing ads, there was a lot of functionality for users to understand and access. On top of that, novice users would have to be able to understand online ad-management concepts. Unfortunately, dealing with concepts such as campaigns, groups, and keywords is not very easy for novice users.
Solutions
Our first step was to explore Marin's product and get a thorough orientation to the product concept and structure. We saved discussion of what they thought were issues until after the expert review, so as not to bias us when we performed our exercise. They gave us an overview of who the target audience is, what their goals are, and what functionality is available.
We performed an extensive expert review on their prototypes, covering every screen. Each item was logged into a table covering the context, exact issue, the type of issue, and the design recommendation. Then, the item number was tagged on a screenshot and all the screenshots with issues were centralized into a PowerPoint presentation. See the following screenshots for more depth.
Examples
Expert Review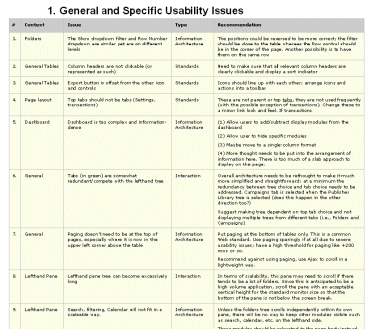 + Show full size - hold down shift key if new window doesn't appear.
This expert review was able to immediately impact Marin's early-stage product. There were many interaction issues that were identified along with quick, simple, and effective solutions.
Advertising Groups Dashboard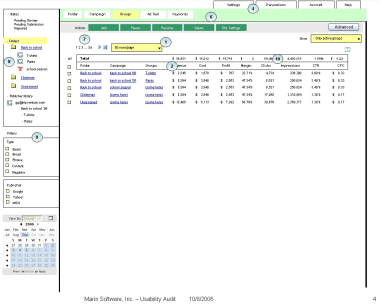 + Show full size - hold down shift key if new window doesn't appear.
The review covered all the available screens of the prototype and we annotated each screen with a key to specific issues in the full review document.


Keyword Submission Form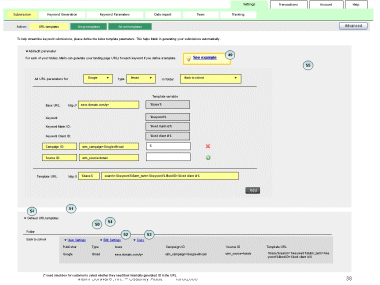 + Show full size - hold down shift key if new window doesn't appear.